Ready to apply kits for residential, commercial or industrial use
Ureco epoxy kits give you everything you need to lay synthetic resin on top of concrete and design beautiful, protective floors for your home (residential) or commercial and industrial use. Buy online, shipping across Canada, or pickup at our Montreal warehouse. Syn-X is your Epoxy resin floor kit supplier, with your choice of clear epoxy, solid color, metallic finish or with flakes.
Ureco Epoxy High Performance Floor Coating System is a two component system. Ureco has been formulated to be low viscosity, self-priming and solvent-free. This epoxy coating is low odor and low V.O.C. (volatile organic compounds).
This high-gloss epoxy product offers a smooth and seamless surface and is easy to clean. It offers good resistance to chemicals and resists bacterial and fungal growth.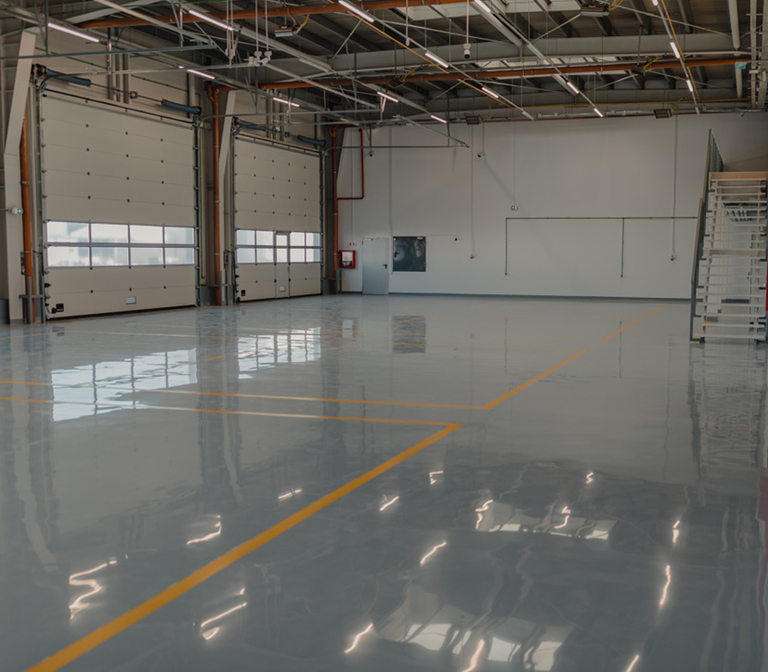 Protection
Epoxy resin protects the underlying substrate from stains, physical wear, moisture, microbial growth, standard chemical spills, temperature changes and impact damage.
Durable
When installed properly, epoxy coating does not crack, break, buckle, bend or fade. Can withstand thermal shock, corrosion, chemicals, abrasion and even water damage. Of all the synthetic surfaces, epoxy has the longest lifespan (over 20 years).
Eye catching design
Epoxy resin started as an industrial solution, but now with the addition of metal powder or flakes, it has become of one designer's favorite synthetic surface. Its high-gloss, light-reflective finish with seamless surface produces a bright looking surface that looks amazing from any angle. Customize your epoxy floor with various colors and effects.
Industrial strength solution
Epoxy floor is recommended for the food and beverage industry, manufacturing sectors, pharmaceuticals, chemical storage, and processing facilities because of the demanding service conditions they require, such as daily wash downs and/or sterilization. The seamless surface decreases the risk of bacteria from harmful chemicals to be left in the inseams of traditional flooring.
epoxy flooring systems kits:

Metallic two components epoxy coating system for flooring.
High gloss and glittery

Two components epoxy coating system with flakes for flooring.
High gloss.

100% solid epoxy coating system for flooring.
High gloss.